by Liz Walker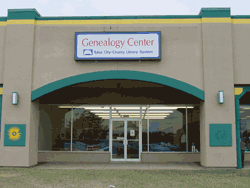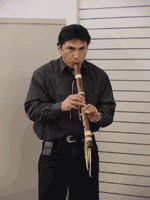 The new Tulsa City County Library Genealogy Center opened on November 1, 2002 at 2174 S. Sheridan in the Alameda Shopping Center. Linda Saferite, TCCL Executive Director, Richard Parker, Assistant Director, and Charles Shannon, Director of the Central Library mingled with genealogists to view the space and the collection. Visitors to the grand opening were treated to cookies and punch served by members of the Friends of the Library and music by American Indian Flute Player, Mike Pahsetopah.
The move took exactly one week to complete with the help of many Tulsa Genealogical Society volunteers, like Linda Feaster, Hugh Keen, Dorothy Nix and Dixie Johnson, who packed and unpacked books and film, cleaned shelves, and helped get everything in order for the opening.
The new center consists of approximately 3,500 square feet of space about 1,000 more than the old space at the Schusterman-Benson library. New shelves have been added in anticipation of a growing book collection, and there are three genealogy database computers, which can also use the Family History Library 1880 census CDs. There are now two internet computers for public use. The TCCL system pays for a subscription to Ancestry Plus which contains many valuable resources including census images.
The collection features, The Final Rolls of the Five Civilized Tribes, Tulsa City Funeral Home Records, Tulsa County Cemetery Records, Civil War Roster of the Confederate and Union Soldiers, The DAR Lineage Books, The New England Historical and Genealogical Register and Passenger and Immigration Lists Index.
The new space allows for a separate microfilm reading area where lights are dimmed for better viewing of films. Additional cabinets have been purchased for future microfilm acquisitions. The Friends of Genealogy continue to purchase films for the collection to complete the 1860 census year. The microfilm collection currently contains all census records for most of the U.S. through 1850 and all of Oklahoma from 1900 to the newly released 1930 census.
The Genealogy Center will soon be adding a new scanner that can copy fragile genealogy books from above rather than having to lay them upside down and risk damage. In addition to copying library materials, genealogists will be able to copy their family bibles and other delicate family documents.
Kathy Huber, Genealogy Librarian, and Liz Walker, Library Associate, have been joined by two new Library Associates, Barbara Meehan and Deb Warren.
Beginning Genealogy classes will be held in the newly renovated Nathan Hale branch library. Nearby Nathan Hale offers full services, not available at the Genealogy Center, such as a circulating book collection and meeting facilities.
Library hours at the new Genealogy Center are:
Monday – Thursday 10:00 a.m. - 7:00 p.m.
Friday – Saturday 10:00 a.m. - 5:00 p.m.
(October to April)
1:00 p.m. - 5:00 p.m.
The library's phone number is (918) 669-6063.
For information about contributing to Friends of Genealogy, contact Patty Hager at (918) 622-8754.
For information about the Friends of the Library see the library's website at http://www.tulsalibrary.org